End of Year Business checklist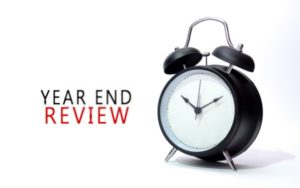 From my experience of managing 618 Bees, the end of the year business evaluation is something I really dread.  For a lot of businesses, particularly SMEs, this time of the year is a busy one as they are in the heat of the fast approaching holiday season. While it is important to capitalize on the opportunities that the holiday season presents especially as it regards profit, it is more important to begin to organize and tidy up all key aspects of your business for the end of the calendar year. This will help your business end the year on a solid foundation and enable you to build on for the next year.
If you are an SME, here are a few items you should have on your business' end of year checklist:
Celebrate your wins this year, big or small.
This may seem trivial to some but it's an important and valid element that can give your business a huge boost. The human memory can be a fickle thing and it is very easy to focus on the struggles of the present while forgetting the achievements of the past.
So whether you paid your rent in full for the first time, signed up a big new client, paid salaries right on time, met your target or just generally able to survive considering the inflation, then you must celebrate these wins!
Before the year runs out, take the time to catalogue your achievements, reflect on your business successes this year and celebrate these accomplishments with your employees, stakeholders, customers and clients. You may just be surprised by all the great things that happened within your business this year. Acknowledging your wins a great way to build team spirit, increase morale and keep employees engaged, end the year on a high note and get ready to take on the tasks for the coming year.
Team Performance Review
Whether you manage 2 or 10 staff members, the process of performance review will help you measure the performance of your staff members over the work year and aid you in making other key decisions for the newyear regarding them. The decisions to be made in this regard ranges from planning bonuses/other rewards for exceptional staff, identifying new roles that may need to be created or new staff that need to be hired to cover existing roles or identifying and weak links within your team and finding solutions for these roles. Additionally, the end of the year presents a unique opportunity to review and improve on HR procedures like recruitment, development and retention of talent within your company/organization.
Review last year's revenue goals
Many business owners start the year by establishing revenue goals or drawing up a budget. They also review those goals every quarter to determine how they are tracking toward them, so going into the last quarter of the year they have a pretty good idea of whether or not they are on track or are lagging. With less than a month to go, it's a good time to take one last look to determine if you're on track, need to adjust, or are within sight of your goals with a little push.
Review year-end financials
Running your financial reports for the end of the year gives you an opportunity to look at the big picture. Sometimes it's easy to get distracted by the day-to-day details of running a small business, so taking a critical look at your primary financial reports for the year is just a good idea. They should definitely include a Profit & Loss Statement (P&L), you Balance Sheet, and a detailed Cash Flow Report. Reviewing you financials will also enable you plan for your company's tax filing in the coming year.
Documentation Management
The end of the year is also a good time to make sure the information you have on any of the vendors or suppliers you use is updated and correct—including any new relationships you've initiated this year. This can be done by updating client's files, vendor files and clients lists. Here at 618 bees, part of this process includes compliance reminders to our clients for mandatory end of year statutory filings they should plan for and it also prevents late filings and penalties.
No company can exist without constant data and information being passed both internally and externally. All files and data created by your business should be properly catalogued and backed up in a secure location. These data include client information, meeting notes, emails, photos and videos, briefs, research materials and so on. There are two major ways you can go about this: the first is to put them on a cloud-based storage system (For example, Google Drive, One Drive and Dropbox) and the other is to put them on an external hard drive. Also note that your contacts list is a form of data and should be catalogued and properly backed up as well. Review of your company's information and data collation, which I call documentation management at the end of business year is as important as the financial management of your company. Documentation management is the institutional memory of your company. It is a record of the standard operations and procedures, goals, action plans, reporting and approval processes, and reports.
Review Goals
Before jumping into plans and activities for the next year, it's important to evaluate the goals written down for the current ending year. Review these plans armed with the financial reports and statements for the current ending year.  Go through your business plan and other documents relating to the business year to give you a detailed and realistic perspective of exactly where your business stands.
Ask yourself the hard questions: Did you accomplish all that you planned to do? Why or why not? How can you improve on current goals? What were the challenges and milestones met during the year? These 'WHYs' 'WHATs' and 'HOWs' are essential and cannot be overemphasized. Based on these reflections, you can set future goals.
Make plans for the coming year
Now that you know where you stand as a business and understand what needs to be done, you've reached the fun part: planning for the future!
Looking at your entire business landscape, set goals for where you want to go, and then put together a strategic plan to help you reach your goals. It's better to pinpoint specific, measurable goals to help you stay focused.
For example, many business owners would like to "grow their business next year." But how, and through what means? On the other hand, saying that you would like to get 15 more clients next year or move to a larger office space in 6 months is more specific, allowing for more accurate business planning.
A Review of your business operations would help you determine what areas need adjustments such as contract negotiations, research for new suppliers, adjust your pricing model where necessary and generally get things in order.
Conclusively, do not let the hectic business activities of this period of the year stop you from putting your house in order for the close of the year. Taking care of these important tasks can help position your business for a strong finish and set you up for a good start to the new year.
Happy holidays friends!
Efe Majemite
Team 618 Bees
The information in this blog post ("post") is provided for general informational purposes only, no information contained in this post should be construed as legal advice, nor is it intended to be a substitute for legal counsel on any subject matter. No reader of this post should act or refrain from acting on the basis of any information included in, or accessible through this post without seeking the appropriate legal or professional advice from the particular facts and circumstances at issue from a lawyer. This post is protected by intellectual property law and regulations. It may however be shared using appropriate sharing tools provided that our authorship is always acknowledged and this Disclaimer Notice attached