Compliance For Your Small Businesses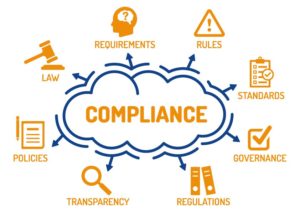 Business compliance is the process of making sure your company and employees follow all laws, regulations, standards, and ethical practices that apply to your organisation and the industry at large. The purpose of compliance is to ensure that an organisation's policy, procedures and actions are in accordance with the law and in compliance with regulatory requirements.
What does a business need to be compliant?
Generally, compliance in business means adhering to government laws, health and safety standards, or data and security requirements. If you run a small business, you have to deal with a range of national and international laws that govern the way businesses have to operate. Business compliance, in simple terms, means making sure your business is on the right side of these laws. In the Nigeria, the legislation that covers most aspects of business compliance is the Companies and Allied Matters Act 2020 (CAMA).
Why Does Business Compliance Matter?
Business compliance may seem like a burdensome and even expensive for a small business but the truth is that it offers a framework for ensuring that the business is able to act quickly if any loophole is spotted. So for anyone starting a small business, the fact is that the rules are in place to protect you as a business owner, your business as a whole and the people you employ.
Business compliance is also a requirement of all organisations that want their business activities to be approved by the government in the place where they operate and investors. With effective management of these processes, businesses can reduce excessive costs, improve margins and increase profitability over time.
Compliance as an action and a standard
Generally, compliance in business means adhering to government laws, health and safety standards, or data and security requirements. Compliance is seen as an "action" if there's a conscious recognition of the said rules and policies that are deemed essential to the existence of a business or company. An example here is the requirement of a Lending License from the state Government where a company or individual wants to go into the business of lending with interest.
Regulatory compliance accompanies certain requirements mandated by recognized governing bodies. In this context, to comply means to meet certain requirements so that your company may run legally and safely. For example every new business in Nigeria is mandated to register for Value Added Tax (VAT) with the Federal Inland Revenue Service (FIRS) within six (6) months of registration and a failure to do this attracts a penalty as much as N50, 000 (Fifty Thousand Naira).
This also speaks of the different responsibilities of a company. Compliant businesses are aware that they are responsible both to their employees and clients as to be non-compliant can result in serious consequences.
When a company makes the effort to meet up with regulatory requirements, it creates a positive business reputation. And when companies/businesses identify and take the necessary steps to comply with policies, relevant laws, and regulations, they can define under which program or framework the company should operate.
Compliance becomes a standard for an organisation where they have a well-designed set of rules and policies that help maintain security and stability in the company. These standards are only relevant if they are enforced properly and observed religiously within the organisation. To consider it as a standard, it's not enough that a company simply adhere to laws and policies, they will also need to understand whether following these rules will address the true needs of their company.
Major areas of compliance for businesses in Nigeria
The main areas of compliance which have to be considered when setting up a company in Nigeria includes but is not limited to the below listed items:
Business Registration with the CAC and Nigeria Investment and Promotion Commission (NIPC) where there is foreign participation.
Finance regulations – this aspect of business compliance covers the rules and regulations set out around issues such as tax (VAT, WHT, CIT), PAYE, record-keeping, accounting and dealing with agencies such as FIRS, LIRS, Local Government Authorities, etc
Industry regulations – there may be matters of business compliance around industry specific regulations, such as those set out by the Office of the State Government where the company has its registered office address. Examples include ministries and agencies responsible for the registration of co-operative Societies, lending companies, etc
Workers' rights and employment law.
Business Permits and Expatriate Quotas.
Health and safety regulations covering employees/visitors to your business
Data Protection Regulations.
Any licenses or permits required to operate within a specific sector.
Finally, after companies have met all regulatory compliance processes after incorporation, they must ensure they follow up and monitor them as some may need to be reviewed, renewed and updated regularly in order to ensure business compliance and continuity. This includes any contracts, policies, procedures, approvals, agreements, forms and licenses, permits, Annual or Bi-annual filings, etc
Team 618 Bees
The information in this blog post ("post") is provided for general informational purposes only, no information contained in this post should be construed as legal advice, nor is it intended to be a substitute for legal counsel on any subject matter. No reader of this post should act or refrain from acting on the basis of any information included in, or accessible through this post without seeking the appropriate legal or professional advice from the particular facts and circumstances at issue from a lawyer. This post is protected by intellectual property law and regulations. It may however be shared using appropriate sharing tools provided that our authorship is always acknowledged and this Disclaimer Notice attached.