Rebuilding Your Business Post COVID-19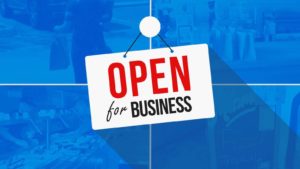 It's no news that the Coronavirus along with severe health and humanitarian issues caused enormous challenges for businesses the world over. The challenges range from the collapse of customer demand, significant regulatory modifications, unemployment, supply chain interruptions, economic recession and increased uncertainty.
So, following the ease down of the nationwide lockdown measures put in place by the Government in both Nigeria and many other parts of the World, businesses are set to gradually open up their doors, most of them in phases. As businesses make plans and prepare to re-open, the short-term outlook for many of these businesses will vary from one industry to another and it is important for the executives of these businesses to consider what recovery mode will look like once the economy begins to return to a state of normalcy or better still return to the new normal.
If a business can put in place a strategy to work with post COVID-19, it can help the business hit the ground running and rebuild faster. We have curated the following tips and strategies to help guide and prepare your business to get back on track post the COVID-19 pandemic ;
Re-asses & Adjust Your Business Plan
Your business model may have worked perfectly fine pre-COVID-19, but coming out of it may mean you have to do some fine-tuning. Business owners will need to consider how to succeed in the "new-normal". For example, if you sold all your products in store, you may want to consider digital expansion to enable selling online going forward.
According to Rebecca Lake, analyzing how your overall industry has been affected by the coronavirus pandemic is helpful. She proposes that when looking at your competitors and the industry as a whole, business owners should pay attention to the trends and focus on finding the opportunities. This is because being able to find a gap or need that your business can fulfill that's been neglected up until now could be critical to reclaiming and expanding your customer base going forward.
Going forward, business owners must know their strengths and weaknesses when going over their business plan and business model to get a clearer picture of their situation. This is because what worked before may not work any longer, hence the need for improvement and adjustment in order to remain competitive. In assessing your business model, you must ensure your business goals are realistic. For example, revenue goals set at the beginning of the year may need to change to match present day realities.
Re-negotiate Loans and Consider Whether You Will Need Funding to Recover
According to Ugodre of Nairametrics, SME's should consider re-negotiating loan repayment terms with their banks so that facilities are not paid at the expense of staying afloat. While to stay liquid, he has suggested business owners should consider approaching commercial banks, or the Bank of industry for loans to keep them afloat at reduced interest rates.
Create New Sales Channels
 The need for multiple sale channels is one of the lessons many business owners should take from the shutdowns caused by the coronavirus. Non-essential businesses that before now operated from only a shop will need to have multiple sales channels going forward if they want to remain sustainable and competitive. With the government imposed quarantines and lockdowns in effect for weeks now, many non-essential businesses with one sales channel, especially those with physical shops, have in the past weeks made very little or no revenue.
According to Dexcomm,a United States based corporation,the easiest way to create a new sales channel is to market your business online or create an e-store. Your shoppers may be confined to their homes, but some of them are still making purchases, just online.
Prepare For Increased Demand
As a result of the lockdowns and quarantine put in place to curb the coronavirus spread, many businesses have experienced reduced demand for their products , hence have been forced to scale down production. This in turn has resulted in drop in sales and revenue. With these losses to consider, many businesses are choosing to decrease their production and supply levels inorder to prevent further financial loss.
While cutting back seems like a smart move and will in the long run help to alleviate some of the financial stress, be sure not to cut back too far. This is because as shown by the China example, economic recovery for businesses after the effects of the coronavirus begin to lessen is coming along at a rate much higher than most predictions. With this in mind, it is necessary to prepare now in order to best take advantage of the situation.
Having the China example in mind, cutting back on production is beneficial from a cost standpoint, but don't do such a high level of cutbacks that your company is unable to bounce back and meet the increased demand once business picks up.
Consider Your Clients/Customers
"Make the customer the hero of your story" – Ann Handley
As a business owner, you must consider how the coronavirus has affected your customers, how their needs have changed and how your business can provide for them.
Going the extra mile in customer service during this difficult time can help re-position your business as the go-to business when they need things done right no matter the circumstances. Provide your customers with accurate information about your services, update them on pending services/orders and remain helpful. If you can listen to how their need may have changed at this time, then you can better position yourself to provide services that can meet their specific needs.
Develop A Timeline For Rebuilding
In re-building your business post COVID-19, there may be several milestone you wish to complete, but it should be done realistically by taking it one step at a time. This you can accomplish by prioritizing what is most important at every given step.
As you take these steps towards recovery, remember to track your progress. You can do a weekly assessment of progress made to see what is working and what is not, so you can quickly make necessary changes until things stabilize.
Create A Contingency Plan For the Next Crisis
While this pandemic may have taken your business by surprise, its important you are better prepared for the next one if it ever happens. This you can do by using the lessons learned this time to prepare for the next crisis. This can help insulate your business and reduce losses.
Measures to be taken may include building up on your cash reserve, cutting down on non-essential spending and keeping your budget in check, finding ways to invest in digital upskilling for your staff or incorporating the option of remote work into your business model as a cost cutting measure.
Having a plan B and thinking of better and more cost effective ways of doing things can help in preparing any business for the worst case scenario, help improve your odds of survival and help the business thrive no matter the tough challenges that the business may encounter.
Team 618 Bees
Sources: www.forbes.com, www.dexcomm.com, www.nairametric.com, www.hbr.org
The information in this blog post ("post") is provided for general informational purposes only, no information contained in this post should be construed as legal advice, nor is it intended to be a substitute for legal counsel on any subject matter. No reader of this post should act or refrain from acting on the basis of any information included in, or accessible through this post without seeking the appropriate legal or professional advice from the particular facts and circumstances at issue from a lawyer. This post is protected by intellectual property law and regulations. It may however be shared using appropriate sharing tools provided that our authorship is always acknowledged and this Disclaimer Notice attached