Family Business Can be Big Business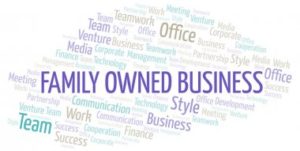 According to the Family Firm Institute, family-owned businesses account for two-thirds of businesses worldwide, making them essential for both economic growth and job creation. So how can one make a family business more successful if they play such an important roles in the economy of our nations?
Launching a business is hard enough without the added pitfalls and potential baggage of family relationships. But this not withstanding, compared with other business, family businesses have some great advantages — mainly a dedicated pool of people ready to stand behind your effort. Some other benefits of starting a business with family includes the following;
Common values– you and your family are likely to share the same ethos and beliefs on how things should be done. This will give you an extra sense of purpose and pride and a competitive edge for your business.
Strong commitment– building a lasting family enterprise means you're more likely to put in the extra hours and effort needed to make it a success. Your family is more likely to understand that you need to take a more flexible approach to your working hours.
Loyalty– strong personal bonds mean you and family members are likely to stick together in hard times and show the determination needed for business success.
Stability– knowing you're building for future generations encourages the long-term thinking needed for growth and success. However it can also produce a potentially damaging inability to react to change.
Decreased costs– family members may be more willing to make financial sacrifices for the sake of the business. For example, they may accept lower pay than they would get elsewhere to help the business in the longer term, or defer wages during a cashflow crisis. You may find you don't need employers' liability insurance if you only employ close family members.
If your startup is a family business, you'll need to take extra steps to avoid burnout, ensure on-the-job harmony, all of which can be achieved with careful management and constant communication.
Research has shown that some of the biggest companies in the world—including Wal-Mart, BMW, Ford, the Guardian Newspaper, Sheraton Hotels Lagos, Eleganza, First City Monument Bank and the Former Diamond Bank —are family-owned businesses, a far cry from the small retail businesses many associate with family-run companies. While family businesses may be a major economic driver, only a very few endure into a second generation and even a fewer percentage last into a third generation, and fourth generation.
So what's the secret for a successful family-run business? We've rounded up five tips to ensure your family business, or the one you may be working for, endures through the generations.
Communication
Families have their own way of communicating, and, although they most times do not employ the best communication skills, they can intentionally defy convention and make open, regular communication an essential part of the family business. When you sense communication problems, confront them immediately. Where communication becomes more challenging, then an expert from outside can be consulted for a resolution.
Set Boundaries
Leaders of successful family-owned businesses know that setting boundaries and sticking to them is critical to establishing and maintaining success. Institute and uphold a clear separation between family and business. In other words, keep family issues out of the boardroom, and keep work at the office.
Embrace Innovation
When it comes to longevity, and the success that comes with it, changing with the times is essential for any business, especially multigenerational family businesses. Whether it is an aversion to new technology or resistance to changing cultural norms, a family-run business—and the people behind it, regardless of age—must evolve or risk alienating both employees and customers.
Practice good corporate governance
Setting boundaries also extends to the corporate governance of family-run companies. Good governance requires the involvement of leaders outside the family. This oversight—employed by leading family businesses worldwide—typically takes the shape of a professional, advisory, or supervisory board comprised of non-family members with a limited number of family representatives.
Plan for the future
Successful family businesses don't just let the chips fall where they may. They plan for the future, creating family business succession plans long before they actually need them. They secure the future by being able to identify talented employees, both within and outside of the family, investing in them early on to ensure excellent leadership in the future.
Whatever the family ties, however, starting a business with a spouse, parents, siblings, children or other family members presents unique challenges over and above the usual problems a startup faces. But as many family businesses throughout the world transition to new generations of leaders, their success and continuity will depend on the management and leadership styles/methods they have intentionally adopted to guide the day to day running of their businesses.
Team 618 Bees
Sources:
www.startupnation.com, www.waldenu.edu, www.bgateway.com, www.kellogg.northwestern.edu
The information in this blog post ("post") is provided for general informational purposes only, no information contained in this post should be construed as legal advice, nor is it intended to be a substitute for legal counsel on any subject matter. No reader of this post should act or refrain from acting on the basis of any information included in, or accessible through this post without seeking the appropriate legal or professional advice from the particular facts and circumstances at issue from a lawyer. This post is protected by intellectual property law and regulations. It may however be shared using appropriate sharing tools provided that our authorship is always acknowledged and this Disclaimer Notice attached.