Perfecting Your Business Model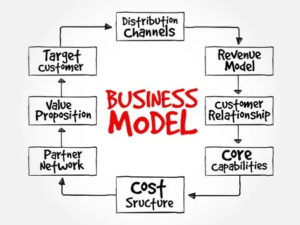 One of the most common misperceptions of entrepreneurship is that what makes a successful business is the idea for a unique product — that if you just have that one great idea that nobody has thought of before, a type of product that nobody has envisioned, you can make tons of money and the world is at your feet. The idea of entrepreneurship makes a very good story but it should be noted that in reality you are likely to fail if all you rely on is this fantasy as opposed to reality.
The truth is that what makes any product great is not the idea for it or even what it can do but how it is positioned. Entrepreneurial positioning is not all about the competitive edge you offer as a business, it is about finding the right business model.
A business model is a framework for how a company will create value. Ultimately, it distills the potential of a business down to its essence. A business model answers fundamental questions about the problem you are going to solve, how you will solve it, and the growth opportunity within a given market.
A business model describes the rationale of how an organization creates, delivers and captures value. It is, simply put, how a business makes money. This includes figuring out what the product is, who its proper customer is, and thus what the value proposition of the business is. While the need for a fantastic entrepreneurship story is great, you also need numbers showing that the story makes financial sense.
A business model is all about understanding that your business is your customers, so you must customize it to them. In order to do so, you must know who they are and what they might want. What are their dreams? What problems do they have? What can you do to make their lives easier? It's not about meeting them halfway, but about giving them an experience they really value — one they cannot resist. It's the entrepreneur's job to figure out what that is.
Creating a business model isn't simply about completing your business plan or determining which products to pursue. It's about mapping out how you will create ongoing value for your customers. So, whether you are starting a new venture, expanding into a new market, or changing your strategy. You can use a business model to capture fundamental assumptions and decisions about the opportunity in one place, setting the direction for success. This will help you etermine where your business idea should start, how it should progress, and when to know you've been successful.
Below are some tips to consider when developing a strong business model;
Identify your specific audience: when creating a business model, narrow your audience down to two or three products or services instead of targeting a wide range that wont allow your business to hone in on customers who truly need and want your product or services. With your particular audience, outline each person's common challenge, demographic and the solution your business will offer them.
Establish business processes: Business owners must have a very good understanding of the activities that will make their business model work. Identify the core aspects of your business inorder to determine key business activities. Determine what activities are necessary to enable you deliver your product or service to the customer/end user.
Keep track key business resources: Business owners must know what is needed daily to deliver their service or product by documenting essential business resources. This is to ensure their business model is adquately prepared to sustain their business needs. These may include intellectual property protection, website development, capital, property, warehouses, delivery partners, customer lists, etc
Develop a strong value proposition: Have a plan on how your bsuiness will stand out from the competition. This can be done by establishing exactly what your business is offerring and why it is better than what is already available in the market. Once a business can identify its value propositions, it can then be linked to the services and products delivery system, this will enable the business remain valuable to customers overtime.
Determine your key business partners: Without key partnerships no business can function optimally as they contribute to the businesses's ability to meet its customers demands. Key partners could include suppliers, advertising partners and other strategic alliances necessary to deliver your product or service.
Be open to innovation: At the start of any business most of your plans are based on many assumptions. This is because it is until you welcome paying customers, that you are able to determine whether your business model meets their ongoing needs. For this reason, it's important to leave room for future innovations. Don't make a critical mistake by thinking your initial plan is a static document. Instead, review it often and implement changes as needed.
Keeping above tips in mind will lead to the creation of a solid business plan capable of fueling your startup's success as you would have a better chance at succeeding. But you will almost certainly fail if you have a bad or sloppy or just not well-thought-out business model.
Team 618 Bees
Sources: www.entrepreneur.com, www.hbr.org, www.aha.io
The information in this blog post ("post") is provided for general informational purposes only, no information contained in this post should be construed as legal advice, nor is it intended to be a substitute for legal counsel on any subject matter. No reader of this post should act or refrain from acting on the basis of any information included in, or accessible through this post without seeking the appropriate legal or professional advice from the particular facts and circumstances at issue from a lawyer. This post is protected by intellectual property law and regulations. It may however be shared using appropriate sharing tools provided that our authorship is always acknowledged and this Disclaimer Notice attached