How To Successfully Organize Your Team Remotely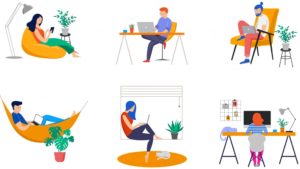 There has been a huge global impact from COVID-19 on both big and small businesses and one of the most prevalent changes for everyone is working from home. Many companies have decided to work fully remotely going forward while some others alternate working in the office and working remotely. While this has been a cost saving measure for some businesses, it has also caused a lot of issues with the overall management of operations, staff and proprietary information.
A flexible work policy is now in demand more than ever, as companies want to be able to enjoy the many benefits associated with it. So, whether your company already has a flexible work policy or are thinking about introducing one, here are a few of the advantages and tips that can help make it easier and well worth it;
According to a Norwegian University of Science and Technology study published by the Journal of Praxis in Higher Education, the arguments for flexible working include but are not exclusive to the following:
Greater flexibility in organizing work and family life situations seems to significantly reduce stress for many people, which in turn improves their health
Time that was previously used for commuting, especially long commuting, or travelling between meetings can now be used for other things, which in turn may lead to higher productivity and quality of the work (some people's commute may take two to four hours of their day, in cases even longer, and shorter distances may be doubled due to traffic jams in big cities like Lagos).
One common argument that has repeatedly been discussed is that a home office situation provides fewer distractions and can make people more efficient
Employers, for their part, see and welcome the opportunity for reduced travel costs and less need for office space
All of the above seem extremely beneficial to any business especially the cost saving advantage it offers, however there are still some challenges business owners or managers encounter when managing a remote workforce. We have curated some tips that can help you manage your team better;
Trust your team
Managing remote teams can be a challenge, as you often wonder whether your employees are sitting in front of the TV binging on their favourite Netflix series? The only answer to this is, do not wonder or think this way. Supervising remote teams is impossible and as a business owner you can either embrace the situation and the remote working statistics of productivity or you can micro-manage and eventually suppress your team.
Trust is essential to build an effective team, without it there is less innovation, collaboration, creative thinking and productivity. If your business has one goal, you need to trust your team to work with you to get there, whether they are working remotely or from the office.
2.    Try as much as possible to Keep your communication personal
Face-to-face communication is massively important for remote companies. The intonations, inflections and verbal cues you get from a face-to-face conversation simply can't be beat. Video conferencing should always be the default for meetings in order to keep personal relationships alive among your team. That said, real-time conversations aren't always necessary and scheduling them can be difficult. If you need to send a quick message to someone, consider doing it with a video recording. This allows you to keep that face-to-face connection and easily explain your message. Plus, the recipient can view it when it's convenient for them.
Set Clear Expectations early and often
Just like what's obtainable in an office, it's important that your employees know what you expect of them. This all relates back to communication, this is why it is important to have video calls as stated earlier. Work life balance is often hard to achieve when remote working due to there being no physical separation from home and the office which contributes to burnout. To avoid burnout, help your employees maintain a work/life balance by clearly defining work hours, expectation of replying to emails and calls outside of work hours and when they should take breaks. By setting your expectations your employees can plan their working day, making it easier for them to separate work and home life.
Find a meeting schedule with clear agendas and stick to it
Setting a meeting cadence is one of the first steps you should take when transitioning your team to a remote environment. It's one of the quickest way to ensure everyone knows what they're supposed to be doing. It also ensures everyone is working on the right project at any time. A meeting cadence means a weekly or monthly schedule of routine meetings. These aren't meetings you can just cancel on a whim. If you don't rigorously stick to your meeting cadence, you'll end up with a disillusioned, unproductive and unmotivated remote team. Here are a few of the most common meeting types you may want to include in your cadence:
Monthly all-hands meetingswith everyone in your company.
Daily stand-up meetings among smaller teams or departments to check in.
Weekly departmental meetingsto discuss projects within a department.
Weekly 1-on-1 meetingsbetween superiors and their direct reports.
Also,whether it's a recurring meeting in your cadence or a one-off, every meeting needs to have an agenda. And since you're working remotely, pen and paper or a chalkboard in the conference room simply won't do. Meeting agendas need to be collaborative, in the cloud, and attached to every calendar event. That way, every participant can add discussion topics for the meeting well in advance. This simple action will ensure that all of your meetings go smoothly and that everything that needs to be discussed will get discussed. Once the meeting starts, simply consult the agenda and work your way through it. Makes it that simple.
Digitize as many of your work processes as possible 
Many companies have physical booklets/printouts of their standard operating procedures and other processes. That's better than nothing, but now that you are remote, you need to make sure all of that information is digitized, in the cloud, and easy to access. Processes can be stored and made actionable in a process documentation tool.
With everything going on in the world right now, make sure you identify backups for your core personnel and processes. Test their workability today so that you're prepared for someone leaving immediately, and you can also rotate roles periodically (maybe quarterly) to ensure every role can be handled by someone else if necessary.
Your team can be just as effective remotely as they are within an office space, if not more effective. Although this requires some coordination, it allows everyone more flexibility, which can help your team maintain a healthy work-life balance. The overall benefits to your business and employees are evident.
Always remember, a great business owner is a leader, despite the location.
Team 618 Bes
Source: www.forbes.com, www.entrepreneur.com
The information in this blog post ("post") is provided for general informational purposes only, no information contained in this post should be construed as legal advice, nor is it intended to be a substitute for legal counsel on any subject matter. No reader of this post should act or refrain from acting on the basis of any information included in, or accessible through this post without seeking the appropriate legal or professional advice from the particular facts and circumstances at issue from a lawyer. This post is protected by intellectual property law and regulations. It may however be shared using appropriate sharing tools provided that our authorship is always acknowledged and this Disclaimer Notice attached